Case Study
Invensys Next Generation Product Redesign
Interdisciplinary Team
Energy
Design
Concept Designs
A complete redesign for the next generation of chemical simulation software.
Challenge
Invensys creates software to automate processes for everything from oil refineries to power stations. Over the past 30 years, they had created the go to platform for chemical simulation and modeling. They needed to re-examine all their legacy design decisions to create the best experience for chemical engineers and create a truly next generation of product for the chemical simulation and modeling space.
We worked with Invensys to redesign their next generation chemical simulation suite, combining over 12 separate legacy products into a single, unified simulation modeling platform that new users would find easy to use and experienced users could adapt into their workflow.
Approach
Multiple research activities, including contextual inquiry field studies, interactive card sorting, discovery workshops and usability testing of existing simulation tools were conducted to gain a deep understanding of chemical engineers and how they create simulations and models for chemical plants. Over 75 users were interviewed and observed in the field to map out their workflows.

These research insights were then translated into real world designs tailored to both the experienced engineers with 15+ years experience and the recent graduates just gaining entry into the field.
An iterative design and testing methodology was implemented to rapidly advance designs at all stages based on feedback from real users.
Outcome
Through multiple iterations, a final UI framework was created that found the best balance for supporting novice users and experienced pros. The first design challenge tackled was creating a UI Framework for the platform.
UI Framework
A large part of the design work revolved around detailing the visual vocabulary and taxonomy of the product, in addition to visual indicators for a range of data states.

The final UI framework detailed navigation, palettes, badging, multiple data states and advanced data views.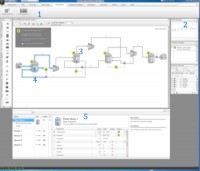 Dashboard
Another product of the iterative design and testing cycle was the Invensys NextGen "Dashboard", a homepage-like landing screen designed to expose both novice and expert users to the full functionality of the product (since it unified 12 previously separate products). In addition, the dashboard allowed users to track the progress of their simulations and to collaborate with other teammates – all concepts that surfaced during the contextual interviews.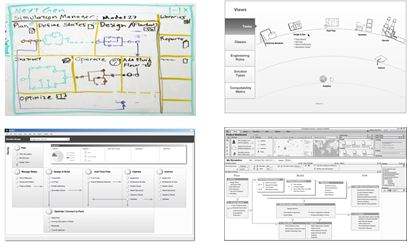 Mobile App Concepts
A major goal of the Invensys project was to explore truly "next generation" interactions, such as mobile and touch screen deployments. Our Contextual Inquiry research unearthed a range of options for mobile and touch, and user feedback indicated that a mobile solution would be very useful in certain targeted scenarios. We decided to explore one such scenario as a tablet solution, to showcase the mobile future of the product.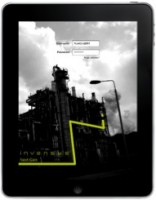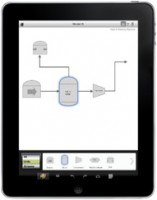 ---
Services Used