Meet the EchoUsers: Patrick Stern
Not only do we design and research, we also do business development! Check out the interview with our biz-dev director, Patrick Stern.
Today, we continue to highlight each member of our team here at EchoUser and let all of you know a little more about us. You've had an opportunity to learn about our co-founders
Mick McGee
and
Aaron Rich
, Experience Director
Vel Prakhantree
and Design Director
Rally Pagulayan
, and now its time to hear from our Director of Business Development, Patrick Stern.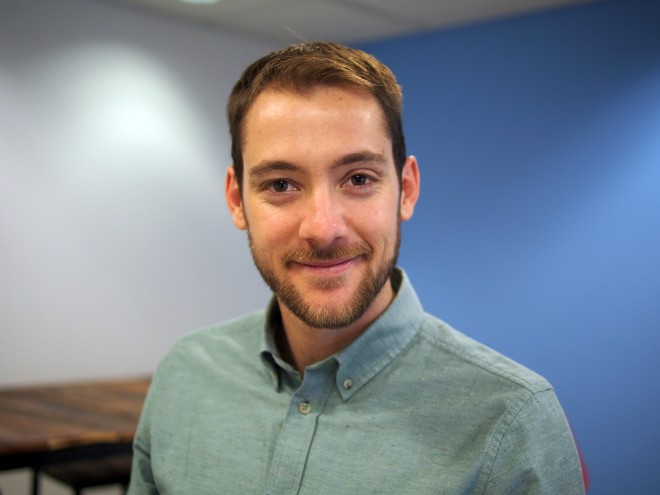 1. How did you get involved in the user experience field?
My first real experience with design was at Apple as a Lead Mac Specialist, working directly with the products and customers. I was extremely interested in customer experience and ensuring that the entire Apple experience was seamless, from the hardware to the interaction with the software. I saw what I was doing as a way to bring my education in Psychology into the real world. While I was working there, Apple released the first iPhone, so it was a very exciting time to be on the ground and to see a whole new breed of products introduced.

I have spent the majority of my time working with products, being surrounded by people who spend massive amounts of time thinking through each interaction their users will potentially have. With my psychology background and this exposure, I really find myself intrigued by people's motivations and what motivates them to engage with a product. Overall, I really love trying to hone in on what users enjoy in a product and figuring out what pushes them to the point where they not only love the product, but where they want to share that product with someone else.
2. How do the UX needs of enterprises and startups differ?
The fundamentals of user experience design can really help a company at any stage. The most important thing is understanding the core experience you are trying to achieve, and every company needs to understand this.  Across both enterprises and startups, companies need to understand that research goes far beyond just analytics. They need to really answer the "why" when users are doing something – and that's what our approach does.

Now, startups do have a harder time determining that because of resources, but there are certainly ways they can figure it out. It could be beneficial to actually go out and ask people, and not just family and friends, what tools they would use, what tools they would like to use and where they would use them. This can be done with a small team and be so valuable to a company in its early stages. I've seen small and large companies gain valuable insights from this kind of work that has saved them from going in the wrong direction, which can be catastrophic for small companies.
3. How have you applied UX to the new business role?
I don't get to sit in and work on projects, but I get to bring the business to those who do. It really is a beautiful thing. I bring in a project, build a relationship with the client and introduce them to the team that will guide them through the process. An important part of this is building the relationship and talking to clients about their goals and desires for the end product. With this discussion, I align everyone's goals and assure them (and ourselves) that we can achieve them together. We have a unique perspective on UX and design, and it's not for everyone. I need to ensure that we all have the same passions and motivations and that our approach to UX is a fit for their product, as much as the client needs to decide that we're a match. It's as if I am a matchmaker, and I need to make sure that our approach to UX addresses their needs as much as the client needs to make sure it aligns with what they envision for the project.
4. What is the most important part of bringing in new business?
I would say that it is finding a client that cares as much about the experience as we care about it. The most successful deals are the ones where we truly become partners with the companies we are working with and can achieve better results together. When imagining the best new business scenario, it really goes deeper than the work we are doing and the money exchanged.

People may think that new business is always on my mind, but building relationships is an integral part of my job. For example, in our recent Design Jam event, we were given more insight into how Oracle designers work internally at the company. Our connection with Oracle is important. While we aren't always doing work with them directly, we have a strategic partnership with them and there is always potential to collaborate in the future.
5. Since you've helped with the development of EchoUser Design Jams, can you explain what they are all about?
We held our first Design Jam event in June, which focused on wearables in the workplace. It was a lot of fun. Roughly 20 designers and researchers from a variety of Oracle teams, EchoUser and Studio Fathom spent the day discussing use cases for wearables and proposing solutions -- by way of wearable technology -- to some of the challenges in the workplace.

The main point of something like the Design Jam is to keep building relationships, which could lead to doing great things together in the future. We'd really like to keep doing these types of events and collaborating with innovative companies on a regular basis. That way, in the future we can harness the knowledge and insight our team has learned to work with new teams on the challenges they face. Instead of asking people for work, we want people to come join us, see what we're capable of, and see where we can potentially  work together.
6. How do you like to spend your free time?
I know it's hard to believe but I don't constantly work. I grew up in Hawaii, and thus, I have a natural love for the outdoors. I do a lot of mountain biking and backpacking. I think the best time to tackle a problem – no matter how big or small – is when I'm hiking around by myself and I'm able to look at life's challenges from many different angles. I find my answer then, and test them out in the real world.
7. What is the number one thing you want people to remember about EchoUser walking out of a new business pitch?
We love getting to know new clients and products, but we really want to work with people who appreciate our process and appreciate the end product they will gain from us.

We're not a standard design firm, and I hope prospective clients walk away from our initial discussions feeling our unique offering is what they need. We have a finely tuned approach to product development and have helped a lot of companies in many different industries. But it's not going to be a fit for every company we talk to. My job is to understand what challenges the potential client is having and look into our toolbox to see how we can help them. It may not be our whole toolbox or whole process that the company needs, it could be just one part, and that's a great place to start our relationship.

We really just want to be able to help where we can. For example, at Plug and Play we hold designer and researcher office hours for free. People can sit down with EchoUser employees and pick their brains. We really just try to do things like this where we can provide perspective, insight and guidance.
Still hungry?